A new mystery and suspense novella series written by seven authors.
View the trailer.
Start off with the prequel in January: The Visitor Misses a Visit. FREE! Just preorder my book and get it in your email.
The visitor travels the US raising money for children's foundations. But she soon discovers more than interested investors!
Follow her journeys as she helps her friends and relatives discover whodunnit while raising money for her charities.
One will be released every month on Amazon beginning with The Visitor Makes a Retreat on Feb 10, 2023.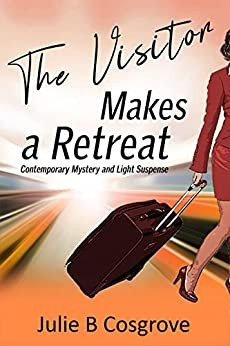 How do horses, a thunderstorm,
and a flowering bush add up to attempted murder?
Connie B. Wright is intent on finding out!
Izzy Gutierrez is the strong right hand for her beloved employer, Fanny Henderson. And she's delighted for the help of Miss Fanny's niece, Connie, during a weekend retreat that will benefit one of the Wright Foundation's newest projects called Equine Engage.
Fanny arranged the special weekend outing for a few hand-picked guests who might be willing to lend their financial support. Unfortunately, she included an attorney that is apparently well-hated by all the other attendees.
So much so that someone is willing to poison him . .But who?
Izzy helps Connie and the Sheriff find out so the fundrasier can be a success.
LOG ONTO MY FACEBOOK PAGE TO FIND CLUES AS TO WHERE THE VISITOR IS HEADED IN MY NOVELLA - ENTER THE RAFFLE TO WIN A FREE GIFT!!
WATCH FOR THE OTHER THE VISITOR NOVELLAS COMING IN MARCH, APRIL, MAY, JUNE, JULY and AUGUST 2023.