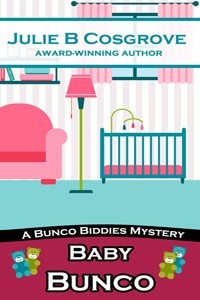 After the cleaning service readies Mr. Newman's garden home for lease, Janie's friend, Mildred, is stopped by the real estate agent who has made an astonishing discovery— a newborn baby wailing in the bathtub, dressed only in a plastic bag from the Get'em and Go across the highway from their retirement community of Sunset Acres!
One of the cleaning crew admits the child belonged to her sister, who died of a drug overdose in the back alley behind a convenience store She left the baby in the vacant house because she couldn't care for her.
But the score doesn't add up. No one knew this maid had a sister. So, why did she lie about the corpse's identity? Could this be the birth of a new, dicey crime wave in Alamoville?
CHAPTER ONE

"Did you say she found a baby?" Janie stopped mid-roll, the pink and white dice warming in her clutched fist. "Here in Sunset Acres, a retirement community?"
Babs, seated to her left at the Bunco table, nodded. "That's what Mildred told me as we were walking up to your front stoop tonight. Right, Mildred?"
"I went to collect a few more of my things since I'm staying with Ethel, and no more than three minutes later the leasing agent pounded on my door. 'Come see,' she motioned to me. Her eyes grew as wide as those mega donuts at the Crusty Baker." She thumped her pencil against her score pad and groaned. "It took every ounce of gumption to follow her into that—ugh!—place next door." She quivered her shoulders.
Janie shifted her gaze to the woman sitting across from her. "Ethel, you knew about this?"
"I did."
"And you didn't tell me?" Her voice elevated to echo-off-the-ceiling volume. She humphed and pivoted to face the storyteller. "Mildred. What happened?"
The other eight ladies halted their Bunco round. Each swiveled to listen in, their eyes fixated on the first card table.
Mildred leaned back and raised her voice for all to hear. "I paused at the steps, determined to not go inside. Only peek in from the front door. Then high-pitched, frantic cries came from the direction of the bathroom. Well, I had to rush to its aid. Every motherly fiber in my being dictated it."
Murmurs and head bobs filtered through Janie's living rom.
Mildred sniffled. "Poor little thing. Alone, scared and red as a beet from wailing so hard. That house is cursed, I tell you."
Janie patted her hand. "Now, dear. Just because someone murdered Edwin soon after he moved in there doesn't mean..."
Mildred shot from her seat and paced, her arms flaying in circles, resembling the duck windmill on top of the antiques barn down the road. "Ever since I relocated into Sunset Acres it's been one thing after another. Edwin murdered, then my nephew Bobby arrested, and now an abandoned newborn in a bathtub? This is supposed to be a quiet retirement community."
"Maybe because you live on Solar Boulevard." Annie huffed. "Nothing weird ever happens on my street, Sunrise Court, except for an occasional stray golf ball. Then again, if you kept your nose out of everyone's business..." Her voice trailed off with a smug cock of her head.
"My nose?"
The other ladies mumbled to each other.Ethel blew a whistle through her teeth. "Okay, everyone calm down. We all lived through the ruckus of one of our neighbor's brutal murder last month. It's not Mildred's fault. Nor mine or Janie's that this happened..."
Betsy Ann raised her hand, as if her legs once again dangled from under her desk in Ms. Everett's kindergarten classroom.
Janie rolled her eyes."What?"
"Well, it is sort of our fault." She pointed to Janie, Ethel and herself. "We helped solve the case and Bobby did wind up in the middle of all of the commotion. That's why he threatened you and tried to break into your house." She folded her hands and gazed down at them. "I'm just saying..."
"Duly noted." Janie felt the healing, pinkish wound on her neck where his knife had grazed her skin. "I must add, my dear son-in-law, Chief Detective Blake Johnson, appreciated all of our..." her hands encircled the room... "research, sleuthing and cunning. He told me so." A smile curled along the edges of her mouth. "Besides, it did beat back the doldrums for a while, right?'